#1 The Leader: Emperor Wilhelm I
Emperor Wilhelm I was the King of Prussia and the First German Emperor. However, the history books show that this great leader was actually playing second fiddle to his right hand man.
Who was his right hand?….
This Guy:
Otto von Bismark.
Was he Badass?
Well lets just say he started the 2nd Reich.
As an ardent fan of military glory, when Bismark spoke the words "Woe unto the statesman who makes war without a reason that will still be valid after the war is over" People stopped and listened…. Mostly because it confused the hell out of them. Why would a glorified war lover be against war?  It would be this show of reason that convinced the reigning King (Frederick William IV) to abstain from invading Austria in 1850, a move that probably saved both Prussia's and Bismarck's career, since they were unlikely to win such an endeavor.  Bismark showed he was smart enough to hold his desires in check.  Bismark couldn't let an opportunity to invade Austria go to waste, and later convinced the King to drop out of the German Federation of peace for the sole purpose that it would allow an attack on Austria. Of course the Prussian Army was much stronger at this point allowing them to defeat the Austrians in a brutal victory of the "Seven Weeks War"
When King Frederic died in 1861, his brother Wilhelm assumed the throne. Wilhelm disliked Bismark intensely and had no plans on keeping him at his side. He learned quickly however, that like his brother, he didn't really have a choice in the Matter.  Bismark had made himself too valuable.  Not only was he keeping the wolves in the cabinet at bay, but he was also providing strong arm advisory skills.
Wilhelm Like Frederick before him, would also argue and rank at Bismark with regards to policy to all ends of the night. Unfortunately the final straw was always Bismark's threat of resignation, and it was always enough to force Wilhelm"s Concession.
His Strong arm Tactics would end up directing Wilhelm I to the unification of Germany and the Crown of Emperor. However Bismarck, the Right Hand man, Imperial Chancellor, and Knighted prince was actually calling the shots the whole time.
Ironically the man Europe named the "Iron Chancellor" would become known less for his prowess at war and more for his greatest achievements that included; administrative reforms, developing a common currency, a central bank, and a single code of commercial and civil law for Germany.
Bismarck also became the first statesman in Europe to devise a comprehensive scheme of social security to counter the Social Democrats, offering workers insurance against accident, sickness and old age.
History Records that Bismarck was the right hand man of himself.
Well that takes car of the 2nd Reich, but what about the 1st?
The First Reich was the "Holy Roman Empire" and was led by this dude:
#2 Charlemagne
His Right hand man however carries with him the stories of legends.
Remember these two guys?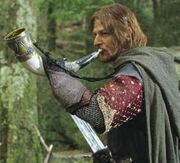 Put them both together and you'll get this guy:
#2 Roland

Roland (Frankish: Hruodland) (died 15 August 778), also known as Count Roland, was a Frankish military leader under Charlemagne who became one of the principal figures in the literary cycle known as the Matter of France.
The tale of Roland's death is retold in the eleventh century poem The Song of Roland, where he is equipped with the Olifant (a signalling horn) and an unbreakable sword. The song of roland
The story of The Song of Roland engenders feelings of the classic struggle between good and evil. It is brilliantly summed up by Roland's dying gesture as he Raises his right-hand glove to the heavens (the gesture of a vassal's fealty to his lord), and Saint Gabriel comes down to accept it. He dies the true Knight, and thus is taken to Paradise.
The Knights Code of Chivalry described in the Song of Roland do Show a loyalty to Church and King, but it is worth noting that this version of the Knights Code, does not revolve entirely around combat or battle.
To protect the weak and defenceless
To give succour to widows and orphans
To refrain from the wanton giving of offence
To live by honour and for glory
To despise pecuniary reward
To fight for the welfare of all
To obey those placed in authority
To guard the honour of fellow knights
To eschew unfairness, meanness and deceit
To fear God and maintain His Church
To serve the liege lord in valour and faith
To keep faith
At all times to speak the truth
To persevere to the end in any enterprise begun
To respect the honour of women
Never to refuse a challenge from an equal
Never to turn the back upon a foe
The 'Song of Roland' characterizes the 8th century Knights of the Dark Ages and the battles fought by the founding father of the Holy Roman Empire, Charlemagne. This is why the code is sometimes called Charlemagne's Code of Chivalry. The Song of Roland describes the betrayal of Count Roland at the hand of Ganelon, and the sanguinary death of Charlemagne's most loyal defender.
Although there is little historical evidence regarding Count Roland, his memory lives on romanticized in stories throughout Europe, with many countries laying claim to such a great hero.
#3 Remember this Guy?
One of the greatest military strategists of all time.
What about who defeated him?
No it wasn't the Duke of Wellington who took down Napoleon….. It was this dude….his right hand man.
#3 Talleyrand
Talleyrand was there to stay. He was survived before and after Napoleon, and while Napoleon ruled, talleyrand was his right hand man. On taking his oath of allegiance to King Louis Phillipe, Talleyrand remarked, "Well, sire, that makes my thirteenth.")
If you have not heard the story of Napoleon's great escape from his banishment to the Prison Island Elba, here is a brief synopsis.
Napoleon received word that France was desperate to have their old leader back. So desperate that people on the outside had managed to find a way to help him escape past the British ships surrounding the island of Elba and return him to France with a group of his men.
Allured by the feelings of importance, and reverence, the former Emperor took the offer and escaped on to a secret ship back to his homeland. When he arrived he began his march on the Capital with his small band of troops. It did not stay a small band of troops for long though. When the news of Napoleon's landing spread, he began to assimilate people from all over France into his march until he was finally cut off from the current Army itself. To avoid a possible civil war, Napoleon is said to have approached the men of the opposing French Army and unbuttoned his shirt and vest wide open saying something along the lines of "If the Blood of a Frenchman should be spilled, let it be the blood of your Emperor" Napoleon's show of bravery and charisma were enough to win over the French troops and Napoleon once again found himself wearing the Emperor's hat.
Little did he know, the minister who betrayed and conspired against him (Talleyrand) was actually the one who set him free.
Why would he do this?
Talleyrand knew that France was in ruin and that Napoleon would certainly lead France to war should he return to power. He was never comfortable with the short distance of Napoleon and felt he should be bannished farther away that the island of Elba. By freeing Napoleon he was able to set him up for defeat in Waterloo at the hands of the Duke of Wellington, who happened to know Napoleon's divide and conquer strategy intimately.
Of course, if Napoleon had have won in Waterloo, Talleyrand would have been considered the savior who set Napoleon free in the first place, which probably would have put him back into the Emperor's favor anyway.
#4 Remember this Guy?
Yeah, most people do. So much in fact that they forget about this dude:
#4 Krushchev
Right hand man to Joseph Stalin. He was born on Apr. 17 (N.S.), 1894, in a mud hut in the village of Kalinovka, Kursk province. As a young boy, Khrushchev worked long hours in the coal mines. Who knew one day he would lead an entire nation?
After the Death of Stalin Krushchev relaxed censorship somewhat, allowing some dissident intellectuals, like Aleksandr Solzhenitsyn, to publish previously suppressed works. He was the first soviet leader to travel to the USA. where he built commercial and cultural ties between east and west.
It can also be argued that he protected Cuba's independence during the Cuban missle Crisis. After the failed US invasion of Cuba during the Bay of Pigs, Castro began attempting to create weapons of mass destruction on Cuban soil. After a tense and lengthy period called the Cuban Missle Crisis, Krushchev agreed that he would not place missles on Cuban soil in exchange for president Kennedy's agreement that he would not invade Cuba again.
Perhaps Ahead of his time, Khrushchev's insistence on "peaceful coexistence" with the capitalist West may have contributed to a rupture with the Communist government of China, who are now 50 years later embracing a similar point of view. His name may not carry the same recognition as Stalin's, but his mark on the future world will most likely be better received.
#5 Remember this guy?
Of course you do, he spent his whole life fighting appartiade, mostly from his prison cell. However, he couldn't have done it without this guy:
#5 Walter Sisulu
Who was the right hand man at his side for over 50 Years
"an eye for an eye and a tooth for a tooth."
Born on 18 May 1912 in the village of Qutubeni in the Engcobo district of Transkei, South Africa. Walter Sisulu was no slouch. As Champion Stick Figher from the Age of 10 he possed the physical toughness that was only outmatched by his intellect.
Early in his career he worked varied occupations from dairy worker, to miner, to baker, to advertising agent, before setting up a small real estate agency himself.
In 1940 he joined the African National Congress (ANC) and in 1941 he met the soon to be famous Nelson Mandela. He loaned Mansela the money to finish law school and arranged employment for him with a lawyer in Johannesburg.
In 1948 The National Party was voted into power and along with the apartheid system that would have Sisulu and Mandela fighting for the next 50 years. The following year Sisulu would close his realestate agency and become a full time ANC party organizer. In 1952 the ANC would call upon the government to repeal all unjust laws and stages mass rallies and strikes that attract thousands of suppoerters. The Governement designates Sisulu as a statutory communist ans sentences him to nine months imprisonment. Sisulu spoke the following words before his sencetence
"I wish to make this solemn vow and in full appreciation of the consequences it entails. As long as I enjoy the confidence of my people, and as long as there is a spark of life and energy in me, I shall fight with courage and determination for the abolition of discriminatory laws and for the freedom of all South Africans irrespective of colour or creed."
He would get arrested again in 1956 for High treason with Mandela, Tambo, and 153 others. He would be cleared on the charges in 1961 only to be arressted six more times that year. However, it was in 1963 that Sisulu got into his most ominous circumstance yet. Sisulu and Mandela stand during the Rivonia Trial and face the death penalty. In 1964 both Sisulu and Mandela, along with six others are convicted and sentenced to life imprisonment in a former leper colony.
Refusing to be bowed, they begin teaching the other inmates about the history of the apartheid. The prison would later be known as the "Nelson Mandela University". "We were united as prisoners," Sisulu later says of his time in jail, "And we were determined to unite South Africa. That sustained us."
The ANC would continue Fighting for the next 27 years until Sisulus release in Oct 1989 and Mandela's in February of 1990. On January 8 1992 Sisulu would be awarded 'Isithwalandwe Seaparankoe', the ANC's highest honour. A new constitution would be set up guarantying "equality before the law and equal protection of the law, and the ANC would win back the homeland they had lost 30 years prior.
Sisulu would later retire due to illness, but he was not forgotten. His eulogy would be read by Archbishop Desmond Tutu who said, "I want to declare loud and clear that after a life so exemplary, so inspiring … we are filled with deep thankfulness. … We have come to celebrate a wonderful life poured out so unselfishly on behalf of others."
Sources:
48 Laws of power Robert Greene
Civilian control of the military: the changing security environment
By Michael Charles Desch Pg 71
Talleyrand
By Duff Cooper
The story of Roland
By James Baldwin
Alexander Hamilton
By Ron Chernow
Khrushchev: the man and his era
By William Taubman
Walter Sisulu
By Chris Van Wyk
http://www.moreorless.au.com/heroes/sisulu.html